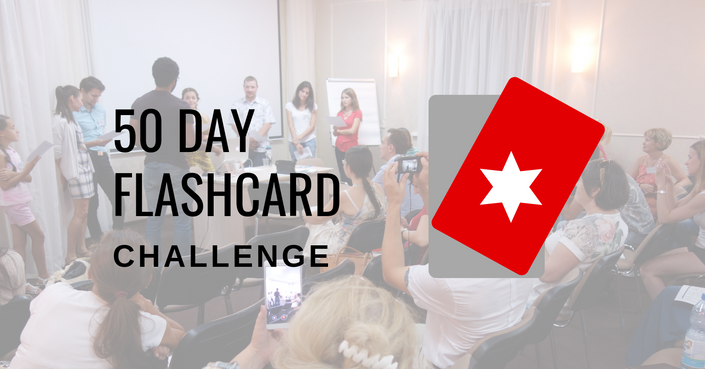 50 Day Flashcard Challenge
Learn 10 new words per day and transform the way you learn vocabulary
Enroll in Course
- Having a hard time memorizing new words?
- Looking for effective strategies to learn vocabulary?
- Are you not consistent enough with your study routine?
- Want to expand your vocabulary with us and other like-minded people?
Unfortunately, most people never become fluent in a foreign language.

Why?

People simply don't feel that they're making any progress, lose motivation and give up!
In order to stay motivated, you'll need to make quick progress at the beginning. Small achievements are the best way to stay motivated and maintain momentum.
When learning a new language, our first step is to always learn the most important words first.
And now you can join us…
We challenge you to learn 5 to 10 new words per day while using Anki Flashcards.
In this video we explain how Anki works:
How does the challenge work?

- For 50 days, we will be learning 5 to 10 new words per day using Anki Flashcards.
- We recommend that 5 new words per day are learnt by beginners and 10 by more advanced language learners.
- We will share each other's progress in an exclusive Facebook group.
- Every day we post our Anki statistics in the Facebook group.
- There will be an accountability sheet to keep each other accountable.
- If you manage to learn 5 to 10 new words per day for 50 days, you will have successfully completed the challenge!
After 50 days, we will announce who managed to successfully complete the challenge.
Who is the 50-Day Flashcard Challenge for?

For beginners who like learning with flashcards or for those who want to learn new words more effectively.

For which languages is the Flashcard Challenge available?
In principle every language, as long as you have flashcards for your target language.

If you don't have a good flashcard deck yet, we can provide Flashcard Decks for the following languages:
French, Spanish, Portuguese, Italian, Catalan, Russian, Ukrainian, Serbian, Croatian, German, Dutch, Estonian, Mandarin, Thai, Vietnamese and Indonesian

What people say about the 50-Day Flashcard Challenge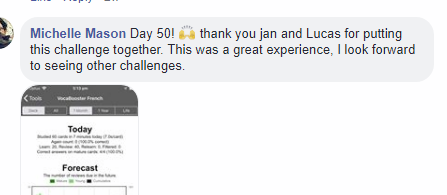 What you get:

- Access to the exclusive 50-day Flashcard Challenge.
- A supportive community with enthusiastic language learners from all over the world.
- Share your own progress.
- Daily accountability checks.
- Weekly videos with the best tips and tricks on learning vocabulary quickly.
- Personal access and support from Lucas and myself in the Facebook Group.

STARTING DATE:
JUNE 10, 2019

How can I enroll for the 50-Day Flashcard Challenge?
1. Click on the red ''Enroll'' button and purchase this course.
2. Mail us at [email protected] and tell me which language you want to learn. We will add you to the exclusive Facebook Group.
3. When the challenge starts, upload a screenshot of your Anki statistics every day. If you're really serious about this challenge, you can also record video clips of your speaking sessions and share these in the group.