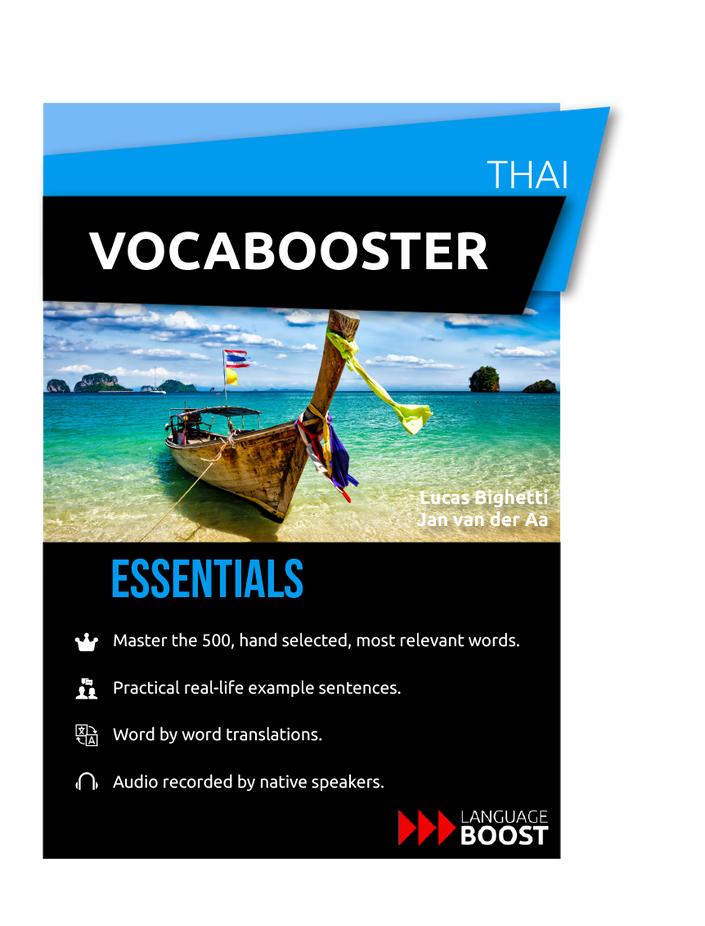 VocaBooster Thai
Learn the most important words in Thai and communicate with Thai people
The only course where you learn the vocabulary that really matters…
Want to Speak Thai?
Do you want to learn Thai but you don't know where to start?
Getting frustrated because of the lack of simple but effective learning materials?
Have you studied for some time but you don't yet have the vocabulary to hold a decent conversation?
Do you feel like learning to speak Thai is going to take a lifetime?
Can you relate to any of these comments?
The good news is that becoming conversational in Thai doesn't have to take a lifetime!
In fact, you'll be able to socialize in Thai by knowing only a few hundred words and phrases if you study the right content, the right way!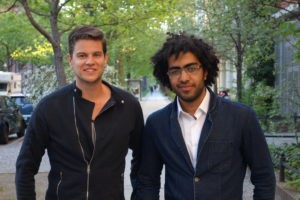 Hi, we are Jan van der Aa and Lucas Bighetti!
We're the founders of LanguageBoost, a website where we help people worldwide to learn foreign languages quickly. We are language consultants, coaches, creators of the Language Boo(s)tcamps and authors of the VocaBooster language courses.
Of course, we also learn languages ourselves!
A few years ago Jan wanted to learn Thai and to be honest, he struggled…
After several months of almost daily study he failed miserably to hold a simple conversation with a native speaker. This caused him to lose motivation and give up.
Having studied over 10 languages each in the past decade, we have found that in order to get momentum and to become conversational quickly in another language, learning the most important vocabulary first is crucial.
But Jan had a problem when he wanted to learn Thai the first time…
Unfortunately, there were not many resources available for beginners that focus on the right vocabulary and phrases.
And that's why we created VocaBooster Thai!
A few years later Jan went back to Thailand for another attempt to become conversational in Thai using VocaBooster… in just 21 days.
With VocaBooster, we teach you the most important vocabulary (and how to use it), so that you can get to a conversational level as soon as possible.
Combining the words and sentences from this course will give you the ability to create a huge amount of useful sentences.
After helping many people worldwide to get conversational in almost a dozen languages, we're now proud to announce that VocaBooster Thai is finally here!

Jan van der Aa
Lucas Bighetti
Why can some people pick up Thai so quickly?

For native English speakers learning Thai isn't an easy job. Thai is a tonal language and the pronunciation of its numerous vowels is anything but easy. Yet some ''falang'' (foreigners) manage to become conversational in a matter of months.

Are they just gifted at languages or to they have a higher IQ?
Of course, motivation plays a big role there, but even if you're very motivated it's easy to lose your motivation by studying random content that you can't use in your conversations.
So what explains their success?
The 80/20 Rule
The 80/20 rule (Pareto principle) states that, 80% of our results come from only 20% of our the effort. In other words, by knowing just 20% of the vocabulary and grammar you can say 80% of what you want to say.
We found that what you study and how practice is more important than the number of years you've been learning a particular language.
How do you find out what your 20% is?
If you work as a translator, the word ''translator'' in your target language will obviously be more important for you than for someone else. Everyone's 20% is different.

So how can you find out what your 20% is?

Maybe you can look for a frequency list on the internet and add vocabulary that is relevant for you?
And that's where the problems begin...
Frequency lists on the internet are often generated from TV or written content that contain vocabulary not relevant for beginners.
Vocabulary is not shown in context. Learning words out of context is the most common mistake in acquiring new vocabulary and makes memorizing new words very difficult.

You also don't learn how the language works. It's cool to know lots of words but even when you know many words, no one will understand you if you don't know how to build proper sentences.
You don't learn how to pronounce the language.
There are no grammar explanations.
In order to memorize new words you need to make as many associations with new words as possible. These lists lack audio and images.
Learning wordlists is boring!
So what can you do?
Course Curriculum
Step 1: Getting Started with VocaBooster Thai
Available in days
days after you enroll
Step 2 - Time for Input!
Available in days
days after you enroll
Vocabulary 101-200
Available in days
days after you enroll

Sign up today and you'll receive the following:
VOCABOOSTER THAI

The most important 508 Thai words, hand picked by us with;
Example sentences for better memorization
Thai script and romanization
Word by word translations for comprehensible input
Provocative images for better memorization
Short grammar notes
Native Audio recordings
Flashcard Decks with Thai Romanization
Flashcard Decks with Thai script
Flashcard Decks with Thai IPA
Fully downloadable – so you can learn at any time, any place, with or without internet
Work on any device – so you can learn in the most convenient way for you
Lifetime access, free upgrades – so you can keep learning for as long as you want
BONUS:
VOCABULARY FLASHCARD DECKS
Once you can understand the content by using the transcripts, translations, and word by word translations, it's time to activate your new vocabulary!
If you buy VocaBooster today, you'll receive an amazing bonus: Ready-made flashcard decks of all the vocabulary contained in the course, compatible with the popular flashcard app: Anki.

You will receive 3 decks, and it's up to you which one you want to use:

– Deck with Thai script
– Deck with romanization
– Deck with IPA (International Phonetic Alphabet)
Practice your output anywhere; on the bus, on the train, or walking down the street – without wasting any time making the flashcards yourself!
Frequently Asked Questions
Isn't this product very expensive?
Learning a language with VocaBooster will give you a head start to fluency. We have spent hundreds (if not thousands) of hours on research – selecting, translating, checking and testing the most useful content. The good news is that all this hard work has made it possible for you to save yourself lots of time and frustration learning vocabulary that is irrelevant for beginners. Decoding your target language and learning the most important vocabulary before taking language classes will allow you to get straight to what you should be doing during your language lessons; speaking practice, and practicing what you've already learned. Plus, you don't need to create your own Anki decks anymore because we've already done that for you! Our Anki decks also include native audio. If your time is valuable and you want to be able to speak Thai as soon as possible, this will be an investment you won't regret.
Isn't VocaBooster just a wordlist?
No, VocaBooster is much more than that. Although this course is based on the essential vocabulary (80/20 rule), we provide you more than just a word list. All entries come with images, native audio, word by word translations and grammar notes. We also provide flashcard decks so that you can train the content in an interactive way with Anki on your smartphone. VocaBooster provides training materials that will be useful for you for the first 3 months, 6 months or even your first year learning your new language.
What does VocaBooster offer that similar products on the market don't offer?
VocaBooster is the only course that focuses on the most important vocabulary, in the right order - VocaBooster comes with simple grammar notes and word by word translations for comprehensible input - Each language family has unique word entries - Revise the content with our Anki decks.
Can I become fluent just by using VocaBooster?
No. In order to become fluent, studying a language alone is not enough. Eventually you will need need to practice your speaking as well. VocaBooster teaches you the essential vocab you need for your first conversations. If you want to learn how to speak a language we recommend finding a teacher on italki.com after you've learned the first 50-100 words and phrases. Also don't forget to download our eBook full of tips and tricks to help you learn a language more quickly. If you want to practice your speaking with us check out our Bootcamps which we believe are the fastest way to get to a conversational level.
Can I get my money back if I don't find it useful?
Yes, if you don't find this tool useful just let us know within 30 days and we will send you your money back. No questions asked.
How useful is the content?
Very useful, we have selected the content for these courses based on a decade of language learning experience and in field practice. We have also used existing word frequency lists to make sure that we haven't forgotten any important vocabulary. Jan has used VocaBooster to learn Thai and Russian and Lucas has used it for his Ukrainian. We wish we had this when we started learning our first foreign languages.
Who is VocaBooster for?
For beginners who want to reach a conversational level asap! Learning with Vocabooster Thai will be the highly effective for those who practice what they've learned from the course with native speakers. It can also be a great tool for people in the B-levels who speak the language already. In such cases, this course can help you to perfect your grammar as well as think, translate and speak faster and more fluently.